In uncertain times, it's crucial to know your supplier
Almost from the beginning of the pandemic in Canada, we began to see challenges in the supply chain: As more communities went into lockdown, there were long lineups at grocery stores, empty shelves in the toilet paper aisle, and disinfectant wipes and hand sanitizer were almost impossible to come by.
Part of the problem was that buying habits were changing rapidly (even those of us who didn't understand the rush to stockpile toilet paper and paper towels found ourselves buying a few extra rolls); part of it was that manufacturers simply couldn't keep up with demand; and of course there was also the challenge of transporting goods when truck drivers themselves were trying to figure out how to stay safe while they criss-crossed the country or ferried goods across the border.
Supply chains have had to change
In the face of the pandemic, long-established supply chains – in both small and large enterprises – have had to adapt. That has meant all kinds of things, from trying different forms of transport, changing the way goods are handled, to rewriting contracts and payment schedules. And for many companies, the biggest change was simply having to find new suppliers for staple products, whether it was bakeries desperate for flour, pharma companies needing pipettes – or janitorial solutions providers like Tennier who found that some traditional suppliers just couldn't keep up with the demand for things like toilet paper, hand sanitizer and disinfectant wipes.
The concern about counterfeit items
It's not surprising that one of the recurring stories when it comes to pandemic-era supply chain management is about counterfeit or non-existent products: Just today, the Ontario government warned about a 'stockpile' of counterfeit N95 masks, but in April the Quebec government lost millions of dollars buying N95 masks that never arrived, unauthorized PPE and virus testing kits were seized in BC – it's not hard to find instances where unscrupulous actors have used the pandemic as an excuse to take advantage of organizations who had to pivot their supply chain practices virtually overnight.
The problem was that end users, desperate for product, couldn't be confident that what they were using in their facilities, providing to their employees, or giving to their customers was safe or effective – and that made the privations of the past year even worse than they already were.
That's why we work with Certainty
You probably already know Certainty as a leading provider of disinfecting wipes, hand care and dispensers.
We've worked with Certainty for years now, and have always felt good about recommending their products to our customers. But the past year's supply chain challenges and counterfeit product scares have made us even bigger fans of their products.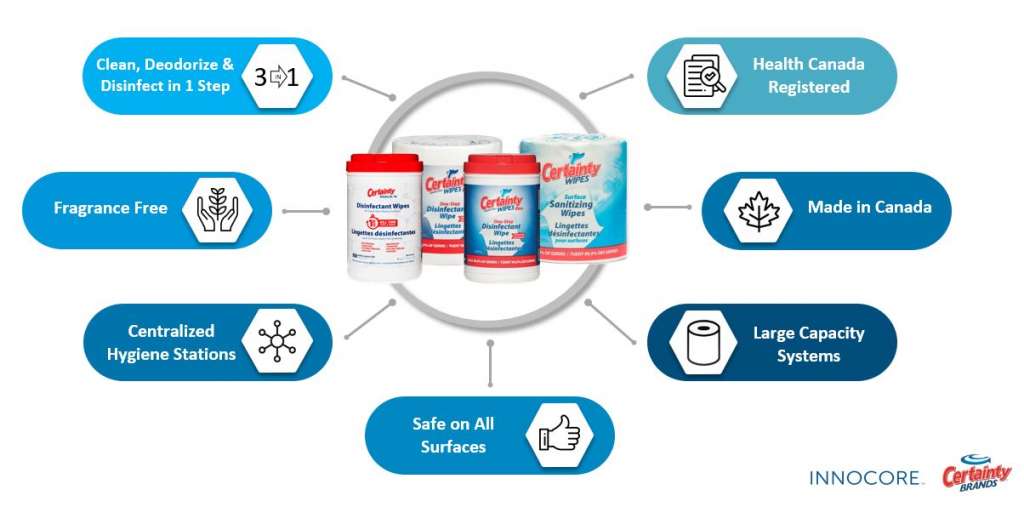 Here's why Certainty products make sense now:
Certainty disinfecting wipes are made from scratch in Canada, in traceable supply chains
In fact, they're one of the only Canadian manufacturers with a fully-integrated supply chain that they control
They're a private, family-owned business which believes in high-touch service, and they've worked hard this year to ensure that everyone got the product they needed
Their products are Health Canada Registered, which means you can trust that they're effective
Their long-established supply chain history means that product is always available: If they say they will deliver X quantity on a certain date, they will
Want to learn more?
There are all kinds of ways that Certainty wipes, hand care and dispensers can help your facility stay safer, provide your employees and visitors with peace of mind – and help you to sleep at night knowing that your supply chain is auditable and stable.
Get in touch – we'd love to hear from you!